I'm planning to keep this blog post as a live trip report for Lync Conference 2014. Not sure how "Live" I can make it, but I plan to put interesting little tidbits that I uncover while at the conference. As always you can follow me on twitter at @lyncdialog for the most up to date Lync Conference info from my perspective
Update: Blogger lost my original Tuesday update (maybe on purpose... haha), so I added those pictures back, but the text will obviously be different.
Announcements and News
Pre-conference
@BlyncLight: We will launch Blync UCWA @ #LyncConf14! Clientless Remote Presence display. Visit us at #718 to chat about the possibilities! @msftLync
@kkieller: Daily top #LyncConf14 Trivia Challenge score gets #Starbucks giftcard and admiration. Send IM to sip:LyncConf14@TriviaEngine.com
@patrichard: #TheUCArchitects are giving away over $50,000 in products and services at #LyncConf14. See http://t.co/WKOHgX2LRx for details on how to win.
@msftLync: Attend the first ever Lync Room System Experience Lab at #LyncConf14! Only 20 participants per session so book now: http://t.co/LRFlgw92iz
@colima_en: #colima 'SimpleRoute now available for FREE! Join us at booth 6 at the #LyncConf14
@nomorephones: @UCsip the #lyncconf14 keynote will be streamed live on http://t.co/cbNQf6WndP, Tuesday 9am pacific
@nomorephones: Something fun for our #LyncConf14 attendees - one of three posters we have printed. http://t.co/UZrHeg1NAY
Welcome Reception


BlyncLight was showing off their Presence cube device. These connect via USB and let others know visually from a distance what your presence is. These seem to be well thought out, especially for a cubical environment where these can sit up on top of the partition. @BlyncLight sent me a message back indicating they are 1.77 inches across.


Vytru remote that works similar to a Wii remote for controlling their Video Conferencing Lync client (think Lync Room System like). This device doesn't have to be pointed at the screen, and knows where it is in space so it is very easy to control the pointer on the screen and run a conference from across the room. They also have touch based devices they can demo... Check out their booth.


Plantronics booth was packed.


Conference Exhibition floor was absolutely huge for 2013. These two pictures are of one single row of exhibitors. There are around 6 rows of Exhibitors with various sizes of booths.




Tue Feb 18
During the keynote, you can ask Gurdeep any questions that you may have via your social channels using #AskGurdeep. Promptly after the keynote, Gurdeep will spend 20 minutes answering as many questions as he can that he receives from attendees using the hashtag AskGurdeep

@We_are_Jabra: Excited to be at #LyncConf14 and launch our exciting new #Lync optimized headsets, Booth 422, See, Hear, & Feel the Jabra difference
@msftLync: Missed the #LyncConf14 keynote? Don't worry, we've got you covered! You can watch it on demand now at http://t.co/aMTjyattCO
Sennheiser finally caught my attention. Yea I know they produce the best audio products, but they didn't really do anything that caused me to really want to reevaluate my favorite devices. Enter the Sennheiser Speakerphone Series
Obviously this is a beautiful puck like speaker phone. I wasn't able to actually hear it in action, but it will obviously have the Sennheiser attention to quality when it comes to producing sound. Even though the Speakerphone has one mic, it is setup in such a way to be omni-directional. They also claim that the mic will pick up audio from a much greater distance than similar competitors. This Speakerphone is capable of actually performing well is a real conference room.
It is Lync Optimized and another feature is that when you are playing music through the Speakerphone it automatically adjusts the equalization for that type of Audio. Nice
The Speakerphone comes in two flavors. One has just a USB connection and another has the USB connection and an additional audio cable that can go straight in to a device that does not have a USB/Lync. One other thing is that the device has a battery inside that automatically changes when connected to USB.

Sennheiser also was showing off a Bluetooth headset. The headset can go for 10 hours of talk time. Has 3 noise canceling microphones and WindSafe technology. If you look at the picture closely the silver portion of the headset slides to easily turn on and off the headset. They also have a number of different configurations for the ear.
They have a hard case that keeps track of the headset and USB dongle. But I will make a note that this case does not charge the headset in case any Plantronics Voyager Legend fans are reading.
Wed Feb 19
Back when I worked on OCS 2007 R2 and was deploying the Enterprise Voice with Dual Forking (Nortel). I encountered many customers that couldn't do the Dual Forking kind of deployment, but didn't want to go full tilt with OCS/Lync either. One solution that would have been great is if you could just do Presence integration with an existing PBX phone.
Enter
Verapresence
with their VeraSync product. They have built a product that takes place of the Cisco CUPS server or works with the Avaya AES server. They change a users presence even if they simply pick up the handset even before they are on a call.
So, if you are wanting to integrate Lync with your PBX, but you don't want to deal with RCC or Enterprise Voice, this might be what you are looking for.
There were a lot of parties at the Lync Conference this year, but the main Attendee party was at Hakkassan Night Club in the MGM Grand. Was a pretty wild party... but I heard this was actually pretty tame compared to what they normally can be in this night club.
Anyway... Thanks to Microsoft and Perficient for throwing a great party.
Thur Feb 20
Logitech was one of the more popular booths at the Lync Conference 2014. It actually took me until Thursday to get close. I was not disappointed. Logitech was showing off their ConferenceCam CC3000e. For 999.99 retail price you get a 5X Optical, and an additional 5X Digital zoom PTZ camera and conferencing system.
The camera itself has a 90 degree field of view, which isn't bad... and it comes with a remote that can control the different features of the camera. Most notable is that the Camera does the Video DSP processing and takes the load off of the PC which can be problematic for Conference Room PCs.
Below is the audio speakerphone for the Logitech ConferenceCam CC3000e. Along with working with Lync through the USB hub in the upper left hand corner of the screen and down below, it is also Bluetooth enabled.
Logitech ConferenceCam CC3000e Remote pictured below. Along with camera controls for Pan, Tilt, Zoom it also has answer and goodbye dedicated buttons, and other audio controls.
This is the USB hub that connects the Camera and Speakerphone together.
Below Logitech is entering in to the personal speakerphone market. Notable difference is that this speaker phone has a place to stand up your smart phone.
What appears to be a dock... is really just a place to rest your phone. No actual smartphone dock exists and it does not charge your phone.
Logitech also was displaying their DECT based headsets. The H820e headsets come in single and dual ear piece configurations (mono and stereo). They also came across as quite well made. To answer or hang up a call, there is a button at the back of the mic boom. There is also a LED light to indicate the status of the user. The mute button is on the boom and not easily spotted.
UnifiedCommunications.com was in full force at the Lync Conference. One item they were showing off was their Device portal that they can deploy for a customer.
This can be fully customized with the devices a particular customer is wanting their users to order from, but it also has a Device selection wizard that asks a number of questions to continually narrow down the devices a user needs. The questions... and how the wizard flows can be full customized. This device portal can be deployed for free if a customer acquires devices through UnifiedCommunications.com or for a fee if they want to acquire their devices from another distributor.
Spectralink was showing off some phones. This is their first show where they have not been part of the Polycom family. The phone on the left is a DECT based phone. The phone on the right is a Wi-Fi based phone. They have MANY more phone choices (durable, and bar code scanners etc) and even an android based phone. These pictured below are just a couple.
Both of these phones are fairly durable and have been tested to go in to harsh environments. The DECT based phone actually registers to an access point pictured below. The access point takes care of registering to Lync. Although the user doesn't have access to search contacts or address book, the access point takes care of changing the users presence to "In a Call" when a call is made.
The Wi-Fi based phone gives a more Lync like experience. The user can search contacts, and address books, change presence etc.
This is the DECT based access point. Not much to it, but as mentioned above the DECT handsets register to this Access Point and it in turns takes care of the registration to Lync.
Photos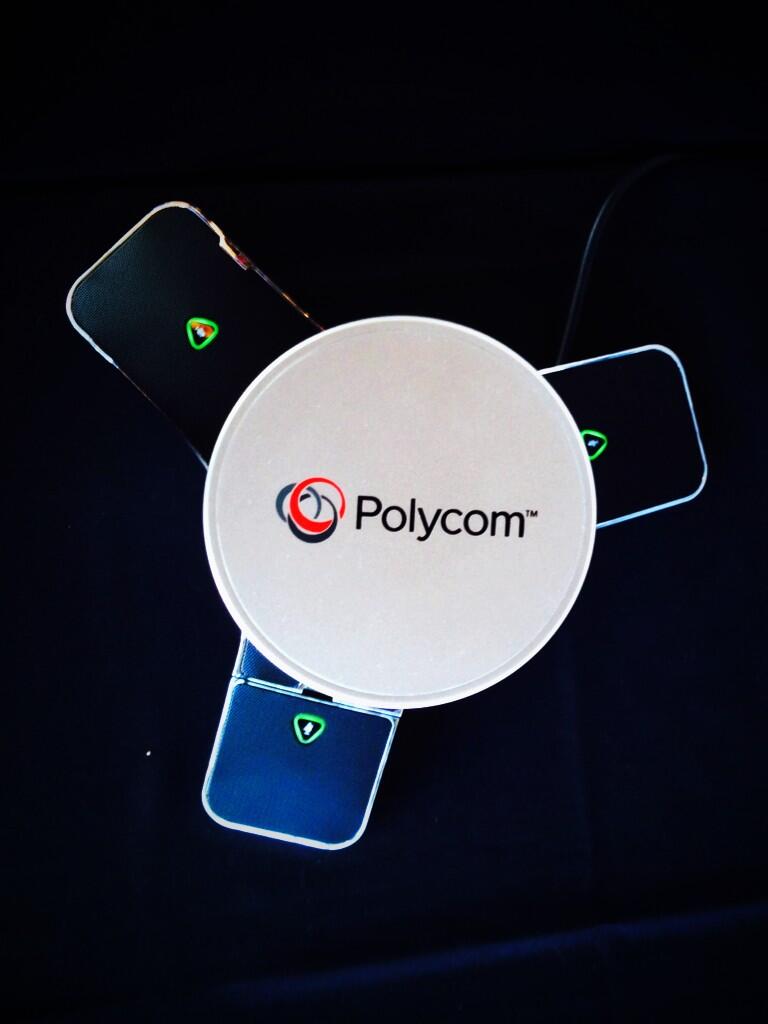 Aerial shot of the new CX5500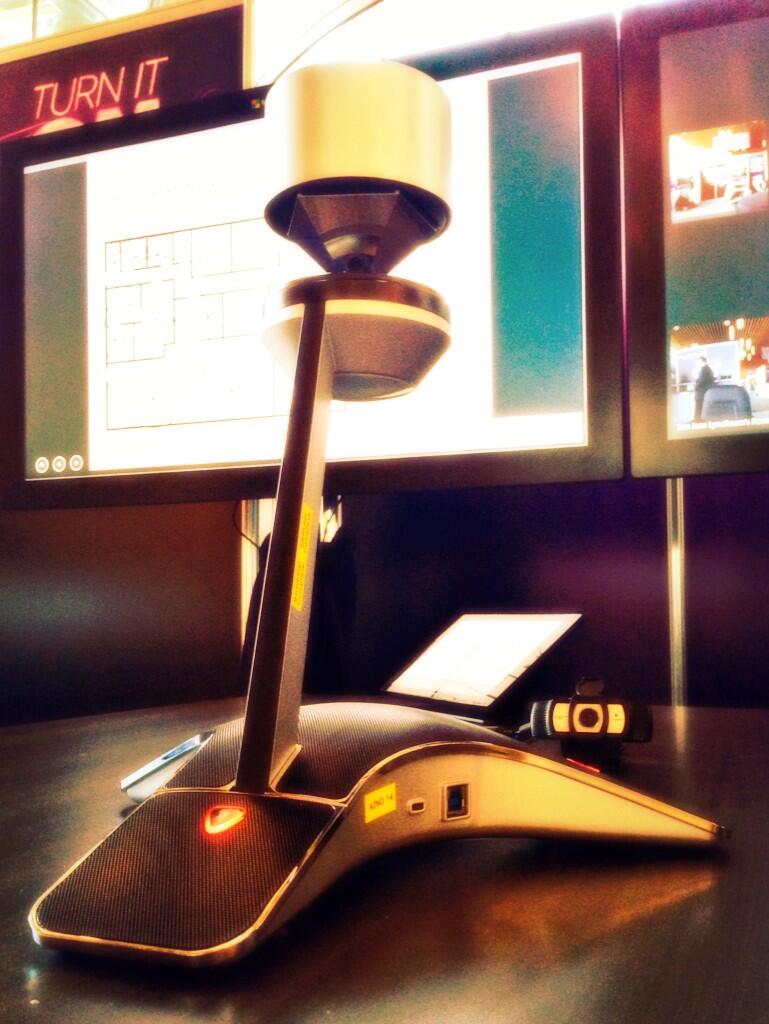 CX8000 in distance with CX5500
BlyncLight
Vytru Remote for the Conference System
Plantronics was really busy on the night of the Welcome Party
People streaming in for the first day
Sennheiser Speakerphone Series
Sennheiser Speakerphone Series
Sennheiser Speakerphone Series
Sennheiser Speakerphone Series features
Sennheiser Presence UC ML Bluetooth Headset
Case for the Presence UC MC Bluetooth Headset
Vytru PC behind the touch based demo
Verapresence Demo of Presence integration with PBX phone
Verapresence Demo of Presence integration with PBX phone
Lync Conference Attendee Party
Lync Conference Attendee Party
Lync Conference Attendee Party
Logitech CC3000e HD PTZ Camera
Logitech CC3000e Hub
Logitech CC3000e Speakerphone
Logitech CC3000e Remote
Logitech CC3000e Info card
Logitech Speakerphone
Logitech Speakerphone (open)
Logitech Speakerphone (open with Phone)
Logitech H820e DECT based Headsets
Logitech H820e DECT based Headsets
UnifiedCommunications.com Device Portal
UnifiedCommunications.com Device Portal